Keep Calm During Stressful Moments With These 16 Super-Cute Fidget Rings
Apr 21, 2022 by Customforher
Spinner rings, also known as worry rings or meditation rings, are two banded rings. One band of the rings stays in place while the other on the inside spins. These rings originate from ancient Tibetan prayer wheels. People used to believe spinner rings had magical powers and could cure tension.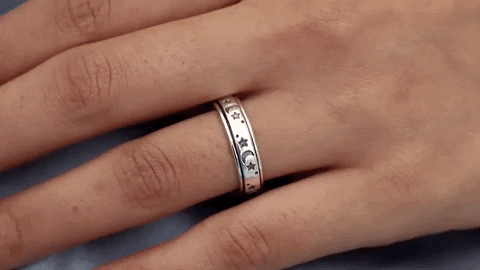 Why do people like spinner rings?
Most people find the motion of twirling the ring to be a stress reliever. Spinner rings have also helped people with anxiety tremendously. An individual with anxiety can purchase a spinner ring and with enough use and the right conditions, the ring can help to subdue their anxiety. Spinner rings also can help people find their center while meditating.
This anxiety ring features three tiny beads that help divert your attention and relax when you're feeling anxious. It's a simple yet effective way to help you stop picking at your nails or cuticles if that's something you tend to do.
Spinner rings can help an individual to acknowledge they have anxiety which can help just by itself. Fidgeting also can help distract yourself from whatever's causing you tension. Spinner rings have also proven to help with nail biting and other nervous ticks. Although they don't have magical powers, these rings do work.
With four different anxiety rings to choose from, this set from Customforher is excellent value for money.

If you're like over 30 million Americans who bite their nails, you'll love this. A ring that spins against your finger is a great way to prevent nail biting.
If you're looking for something cute to distract you from picking at your acne, aside from pimple patches, why not try these colourful anxiety rings?
This three-piece stainless steel fidget ring set is the perfect way to test out anxiety rings for yourself. You get three different coloured rings, silver, gold and rose gold, and all of them are completely adjustable to fit any placement on your finger.
Each spinner rings is made from environmentally sourced copper, is suitable for sensitive skin (read: It won't turn your finger green), and has a different spinning feature.
We're obsessed with this little pearl anxiety ring. Not only is it super affordable, but it also looks chic, is completely adjustable and will help you stop picking at your fingers when you're anxious.
This beaded anxiety ring is completely adjustable so that you can wear it on any finger. It has four small beads that you can twirl around your finger instead of picking when you're stressed.