Do Anxiety Rings Really Help Manage Stress?
May 06, 2022 by Customforher
Are you a fidgeter?
Will you be irritating when you're overstimulated with pressure and complex emotions, or when you're under-stimulated and uninterested in the topic at hand?
Have you ever thought, why are you doing this? Why are your hands always moving?
In my mind, your anxiety wasn't that bad.
Fidgeting takes many forms, such as foot tapping or nail-biting, and often presents in people with anxiety, ADHD, autism, and other neurodevelopmental disorders.
When you feel anxiety bubbling over, simply slip the ring on and begin spinning. These women's spinner rings are a subtle solution that can distract you from your inner turmoil and bring a sense of inner peace.
You can buy a spinner ring to see if it could offer you a more subtle outlet than tapping your fingernails or deconstructing mechanical pens and losing the springs.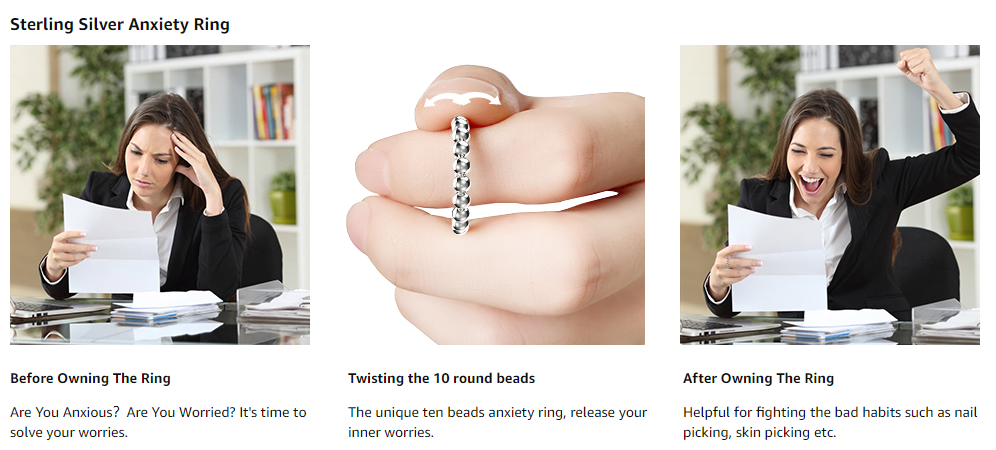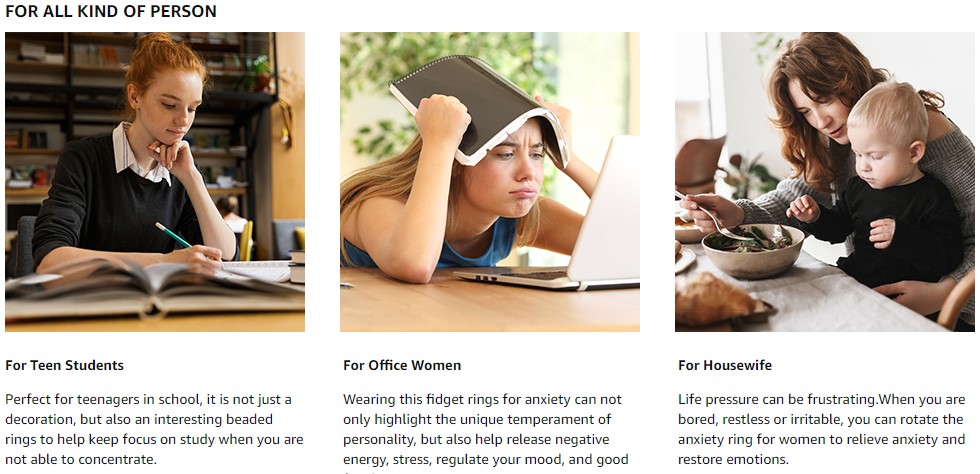 Anxiety Spinner Ring Benefits
Spinning rings are a cool, modern take on historical jewelry. According to ancient tales on the Tibetan Prayer Wheel, you should enjoy the following benefits from anxiety spinner rings:
Reduction in anxiety levels
An increase in good karma
Purification of negative thoughts
Decrease in feelings of anger or grief
Increased good fortune and luck
A sense of peace and serenity
A present and "in the moment" mindset
While we can't promise you that all of these benefits will immediately appear, it sure won't hurt to try while looking exquisite at the same time.
In this article, I'll introduce you to the 5 best anxiety rings that work – affordable, trendy, in a wide range of colors and styles.
NO.1Relieving Anxiety Wedding Promise Ring
Here's another lovely spinner ring designed to help you fidget everywhere while also staying gorgeous and stylish.
With a stainless steel sand blast construct, this anxiety ring stands out from most offers on this list as it can also be used as a promise ring and even as an engagement ring.
Diamond promise rings have almost everything you want in a pre-engagement ring: radiance, intricate design, and that 24/7 sparkle.
NO.2 Butterfly Anxiety Spinner Rings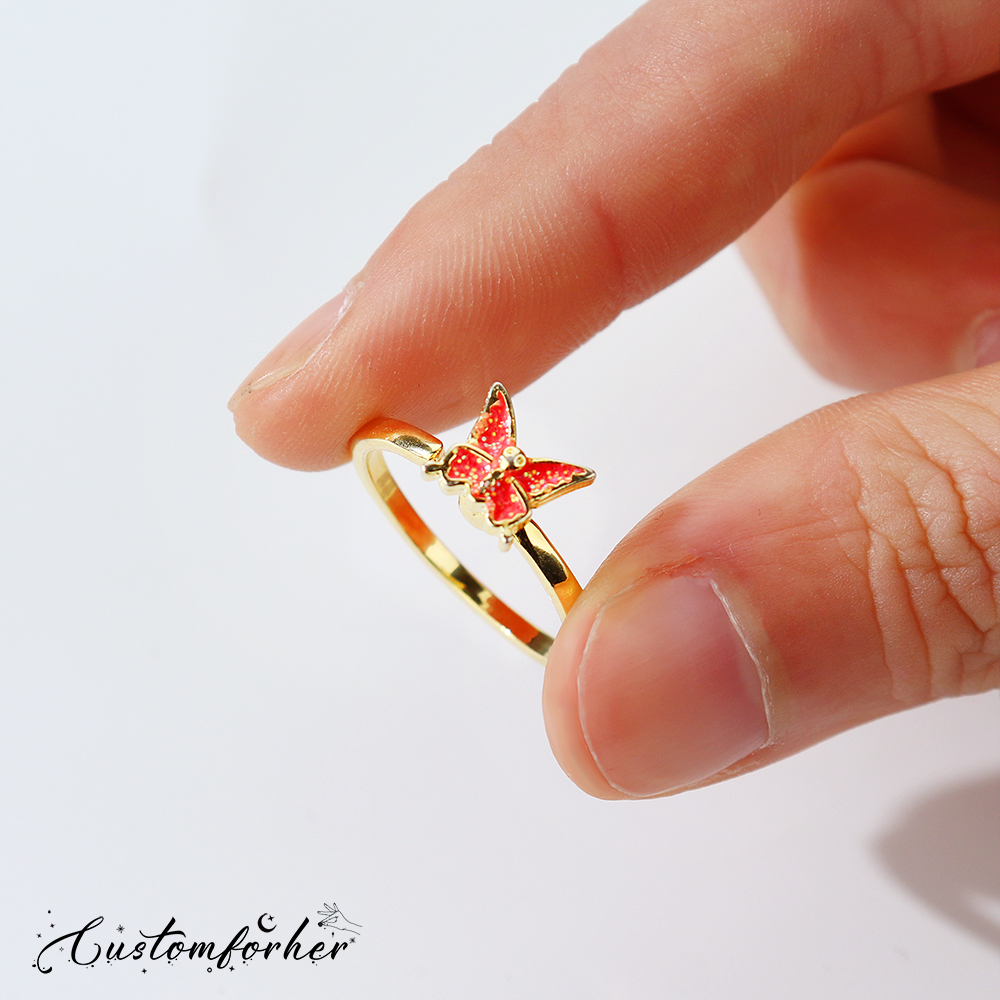 Bet you didn't know that over 25 million Americans bite their nails!
Butterfly anxiety spinning rings are not just stylish and cute but also an excellent remedy to nail-biting.
You can pair them with lightweight cottagecore outfits in the summer or a streetwear outfit if you're into Y2K aesthetics.
When you feel depressed or anxious, twisting the 10 round beads on the spinner fidget rings can help you relieve stress and restore mood and eliminate bad habits in a stylish way :), especially helpful for those with attention disorders, OCD, special needs, or high anxiety levels.
NO.3 Honey Bee & Sunflower Fidget Ring For Anxiety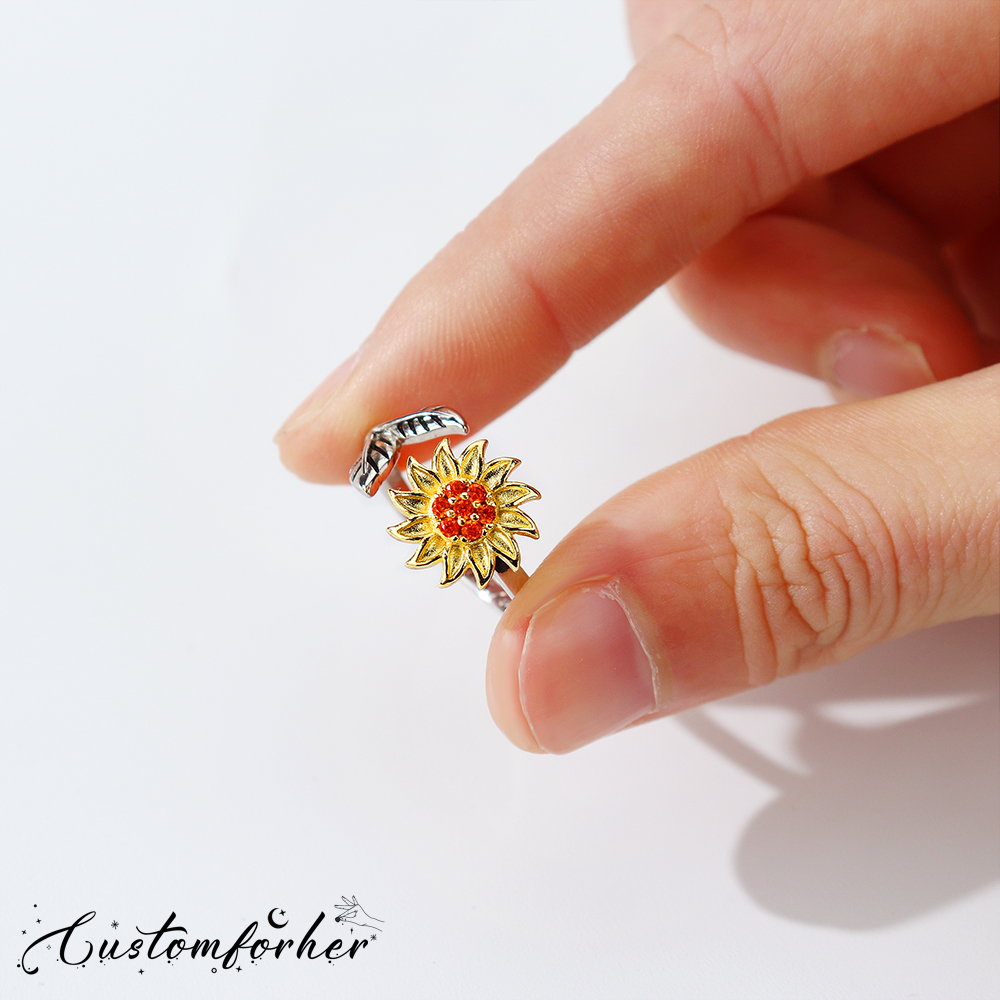 According to Dr. Diana Brecher, a Scholar-in-Residence for Positive Psychology at Ryerson University, skin picking is another typical response to anxiety and stress.
"Skin picking diverts the brain from worrying by forcing attention to something else, and the repetitive action of picking has a soothing effect."
Skin picking can affect any part of the body, from the face to the finger cuticles or legs, leading to bleeding or bruising.
One of the cheapest solutions to skin picking comes in the shape of fidget spinning rings, particularly those with familiar, cute elements such as sunflowers and bees, and great matches to Bohemian dresses.
NO.4 Rainbow Spinner Anxiety Ring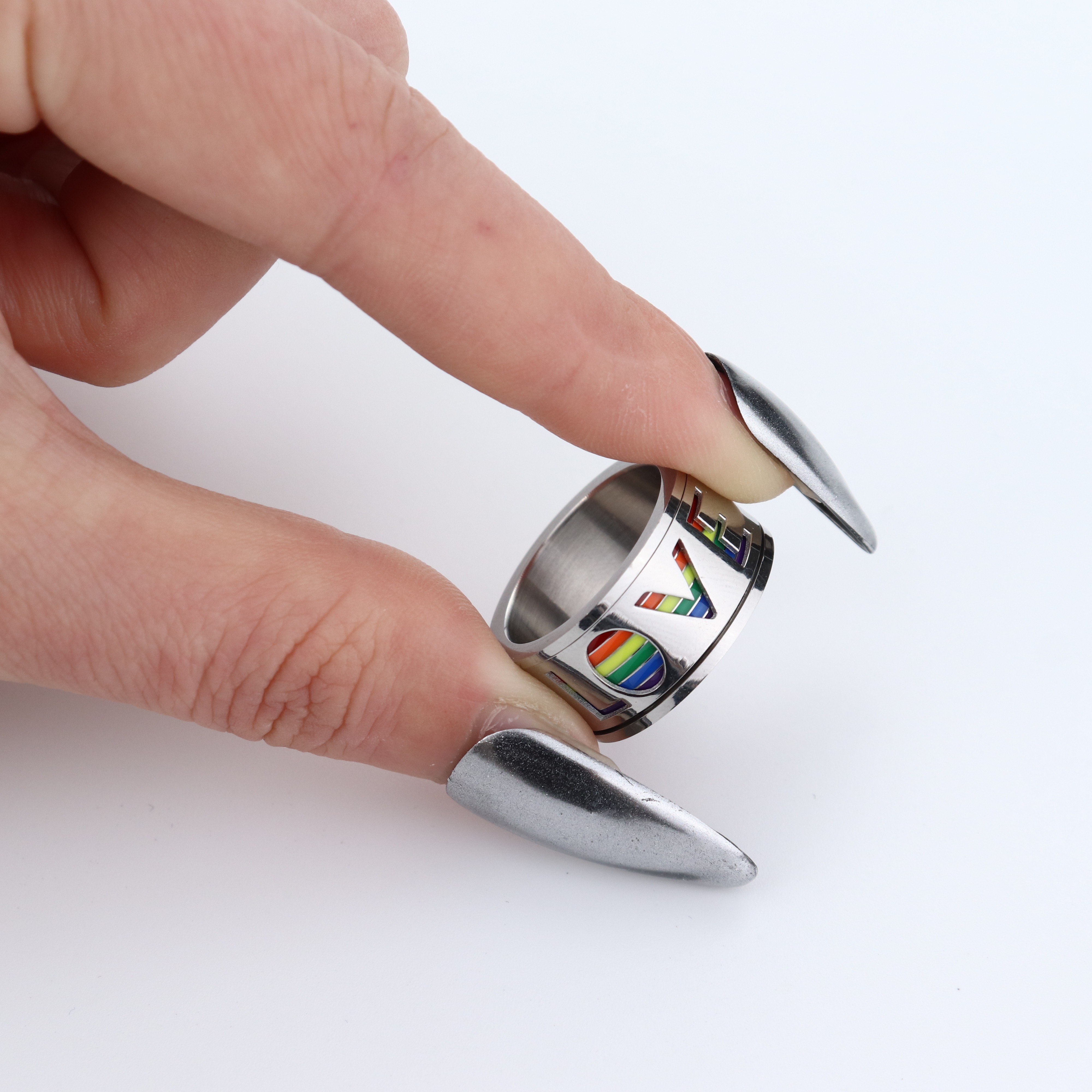 A lovely anxiety ring you can wear to relieve stress by playing with the spinner ring around your finger while showcasing your LGBTQ+ allegiance.
Made of stainless steel, this spinner ring features an outer band overlaid with a rainbow-colored central spinning ring.
Mesmerize your friends with the shiny polish and bright rainbow colors that catch the light in lovely, striking ways.
NO.5 Sun & Moon Gold Anxiety Ring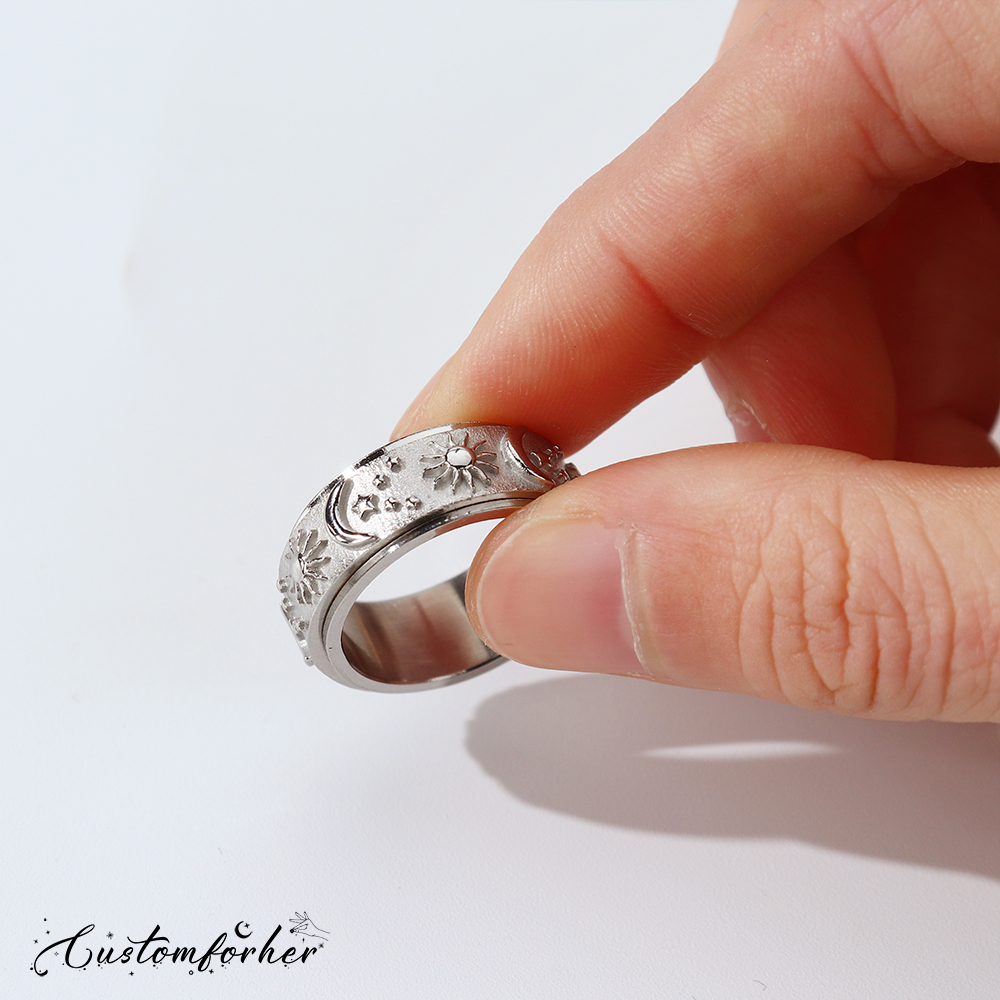 Available in various colors such as gold, rose gold, and silver.
The Sun and Moon anxiety rings are designed to calm you down and bring about a peaceful state of mind.
Also, an elegant anxiety ring as a gift for birthday, anniversary, valentine's day, mothers day, and Christmas day.
Anxiety Rings FAQs
What is an anxiety ring?
Anxiety rings, also known as fidget or spinning rings are finger rings that look just like any regular rings you'd wear for style purposes, with one difference.
Anxiety rings have elements you can play with (fidget with), such as beads or a spinning band.
What is a spinner ring?
Spinner rings, also known as worry rings, meditation rings, or anxiety rings, are rings with elements you can play with, such as two bands on top of each other.
The inside ring band stays in place – fixed to the finger – while the outer band spins.
The spinner rings idea originates from the ancient Tibetan prayer wheels and is designed to help individuals acknowledge anxiety as a form of self-awareness treatment.
Are the anxiety rings worth it?
Anxiety rings are a worthy investment if you're looking for a cheap way to keep nerves in check and achieve relaxation and calmness.
Moreover, wearing an anxiety or fidget ring can help people be more present and create positive associations by equating the action of spinning the ring with relaxation.
Do anti-anxiety rings work?
Spinner rings are called Anti-anxiety rings because they do what it says; prevent anxiety from building up to a point you can't move.
Fidgeting with spinner rings creates a calming feeling because fidgeting refocuses one's attention from problems and stress to the finger, where the spinning action occurs.
How and why do anxiety rings work?
According to Rich Charles L, M.D. and top psychiatrist from Alabama Therapists.
"Anxiety – an evolutionary survival mechanism – if untackled morphs into pathological anxiety and impairs one's ability to move or do what's needed,"
In those "locked moments," you need a way (or object) to bring your attention to the present.
"Having a physical object like an anxiety ring, fidget ring, or stress ball can refocus and re-center your attention."